Isisin alueella asunut "Sanna" kertoi CNN:lle, että hän saapui Syyriaan marokkolaisen miehensä kanssa.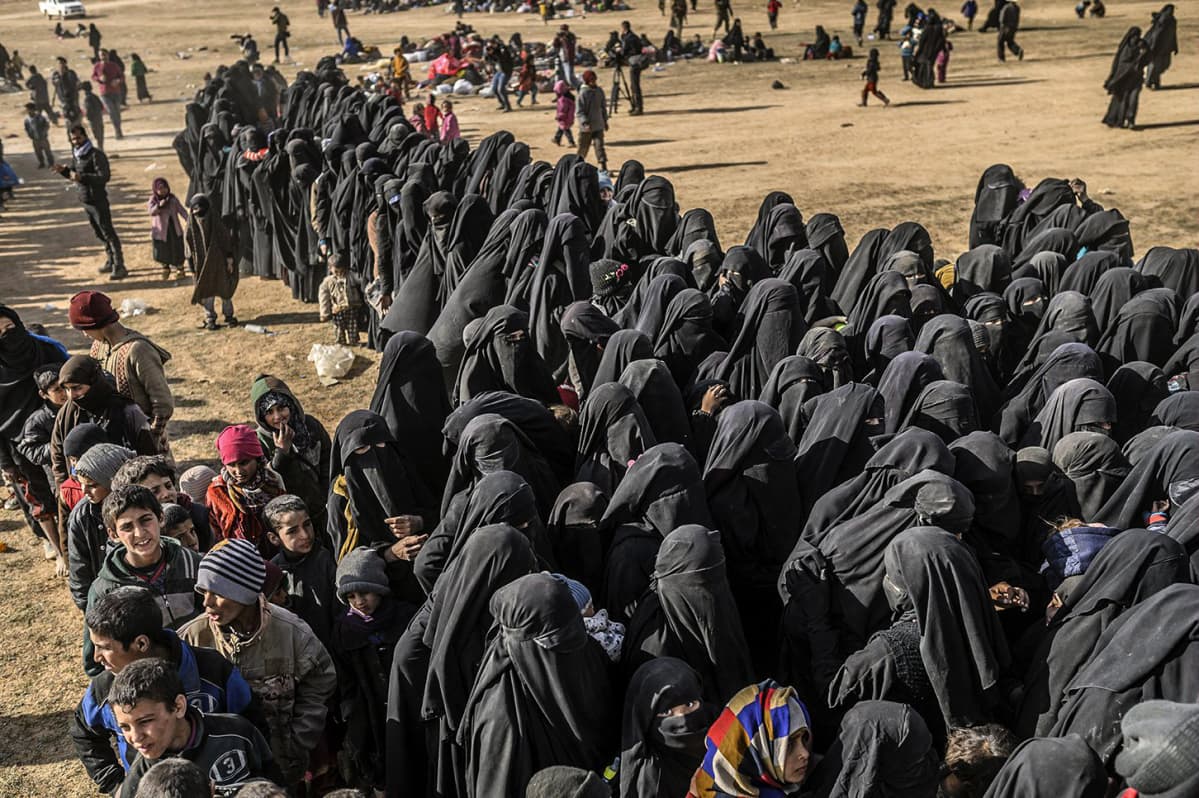 Kurditaustainen toimittaja Mutlu Çiviroğlu kertoi tänään keskiviikkona viestipalvelu Twitterissä, että hän on tavannut Syyriassa ainakin yhden Isisin alueella asuneen suomalaisen naisen.
Çiviroğlun mukaan nainen tuli Syyriaan neljä vuotta sitten. Hän asui useissa eri kaupungeissa ja meni naimisiin kahdesti. Toimittajan mukaan naisella on 13-vuotias tytär, joka on myös naimisissa.
Nainen kertoi haluavansa palata Suomeen, koska elämä siellä on helpompaa. Nainen sanoi, että he haluavat elää muslimeina Suomessa.
This Finnish woman came to Syria via Turkey 4 years ago. She lived in Manbij, Bab, Raqqa etc. She married twice. Her daughter is 13 now & she's also married. Mother says they want to go to Finland because life is easier there & they want to live as Moslems there #Baghouz #SDF
Toisessa tviitissään Çiviroğlu kertoo nähneensä suomalaisen naisen, jolla on neljä lasta. Çiviroğlun tviiteistä ei käy ilmi, onko kyseessä sama henkilö vai kaksi eri naista.
Among the ISIS fighters & wives that surrendered today, I saw a Finnish woman & 4 children, 2 French women, 1 Norwegian, 2 Dutch of Surinam origin, Indonesian, Filipino, Bosnian, Chechen, Afghani, Turkish, several Russian citizens & lots of Iraqis #Baghouz #TwitterKurds #Syria
CNN haastatteli suomalaista "Sannaa" Syyriassa
Äärijärjestö Isisin hallitsemilla alueilla Syyriassa vuosia asunut suomalaisnainen haluaisi palata Suomeen, kertoo uutiskanava CNN(siirryt toiseen palveluun).
Sannaksi esittäytynyt nainen sanoo uutiskanavan haastattelussa, että hän tuli Syyriaan miehensä, marokkolaisen putkimiehen, kanssa neljä vuotta sitten käännyttyään islamilaiseksi.
– Elämä oli ensin hyvää, mutta sitten sota tuhosi sen elämän, ei Isis, Sanna vakuuttaa CNN:n kirjeenvaihtajalle Ben Wedemanille.
– Kyllä, haluan palata Suomeen, todellakin. Aivan varmasti haluan, haluan, Sanna toistelee haastattelijalle.
Sanna ei lyhyessä haastattelussa kerro, mitä hänen miehelleen on tapahtunut, tai onko hänellä muuta perhettä Syyriassa. Hän ei myöskään puhu mitään mahdollisista kytköksistä Isisiin.
Myös Australian yleisradioyhtiö ABC (siirryt toiseen palveluun)on haastatellut Isisin alueella neljä ja puoli vuotta asunutta suomalaisnaista, joka kertoi nimekseen Sanna. Nainen sanoi ABC:lle olevansa kotoisin Helsingistä.
Sanna kertoi tulleensa Syyriaan perheensä kanssa. Hän sanoi, että hänellä on neljä lasta. Sanna kertoi ABC:lle, että hän odottaa joutuvansa vankilaan Suomessa.
On mahdollista, että Çiviroğlun, CNN:n ja ABC:n haastattelema suomalaisnainen on yksi ja sama henkilö.
13-vuotias tyttö Sky Newsille: "Nyt kaikki on kauheaa"
Brittiläinen Sky News -uutiskanava puolestaan on haastatellut(siirryt toiseen palveluun) Syyrian itäosassa 13-vuotiasta suomalaistyttöä. Tyttö näyttäisi kuuluvan samaan perheeseen Sannaksi esittäytyneen naisen kanssa.
Tyttöä haastatellut Sky Newsin toimittaja Alex Rossi sanoo ensin, että toisin kuin monet muut, tyttö ja hänen perheensä ovat täynnä katumusta ja haluavat palata kotimaahansa.
Tämän jälkeen Rossi toteaa haastateltavansa olevan 13-vuotias, ja mainitsee, että tytön äiti ja isä toivat hänet Syyriaan kun hän oli kahdeksan.
– Niin monet perheet, he paloivat pommituksissa. Nyt kaikki on kauheaa, Sumaya-nimeä käyttävä tyttö toteaa sujuvalla englannilla ja suomalaisella aksentilla.
Kun Rossi kysyy, mitä tyttö haluaisi tehdä nyt, hän vaikuttaa hämmentyvän.
– En oikein tiedä. Haluaisin vain palata Suomeen, Sumaya sanoo.
Isis-taistelijoiden vaimojen ja lasten asema epäselvä
Keskiviikkona Baghuzista nilkutti ulos hunnutettuja naisia vauvoineen ja haavoittuneita miehiä kainalosauvoihin tukeutuen, raportoi uutistoimisto AFP.
Kurdien Syrian Democratic Forces (SDF) -joukot johtavat hyökkäystä Isisin viime rippeitä vastaan Baghuzissa Syyrian itäosassa lähellä Irakin rajaa.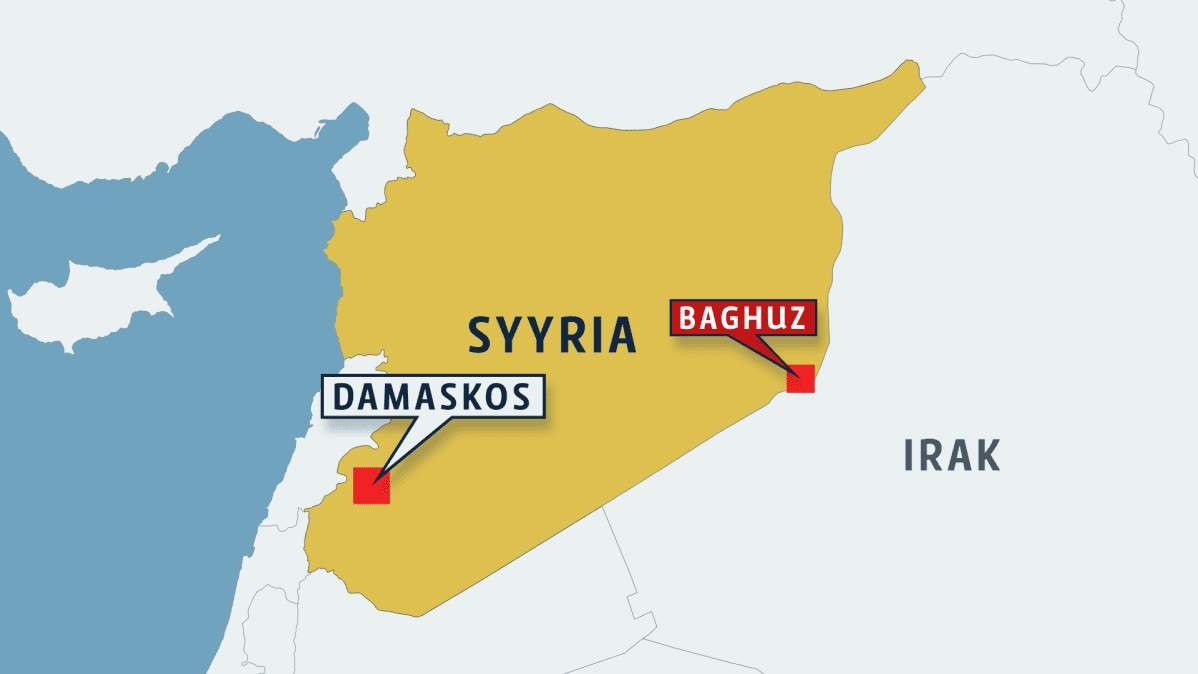 Tuhannet ihmiset ovat viime päivinä paenneet viimeisiltä Isisin hallussa olleilta alueilta Baghuzissa. Pelkästään keskiviikkona evakuoitiin yli 2 000 ihmistä, sotilaslähde SDF:stä kertoi Reutersin mukaan.
Pakenijoiden joukossa on runsaasti Isis-taistelijoiden vaimoja ja lapsia, joiden tulevaisuus on hämärän peitossa.
Tunnetuimpiin pakenijoihin kuuluu ranskalaisen jihadistin Jean-Michel Clainin, 38, vaimo. Clain on yhdistetty Pariisin terrori-iskuihin.
Wedeman haastattelee myös häntä, ja vaimo kertoo sekä miehensä että lankonsa kuolleen taisteluissa alueella. Hän kertoo myös menettäneensä kolme lastaan.
– En halua palata Ranskaan, koska ranskalaiset aseet ovat tappaneet perhettäni, ja joutuisin vankilaan, hän sanoo.
Suomen kansalaiset voivat palata Suomeen
Sisäministeri Kai Mykkänen (kok.) sanoi Ylelle kaksi viikkoa sitten, että Suomi ei houkuttele Isis-taistelijoita Suomeen.
Suomen peruslinja kuitenkin on, että ne Isisin riveissä taistelleet, joilla on Suomen kansalaisuus, voivat palata takaisin Suomeen.
Kun asia tulee ajankohtaiseksi, terroristijärjestöstä palaaviin valmistaudutaan Suomessa jo etukäteen.
– Ennen kuin [henkilö] siirretään Suomeen, valmistaudutaan siihen, että esitutkintakynnys on hyvin alhaalla, jos henkilö on epäilty rikoksesta taistelualueella, Mykkänen sanoi kaksi viikkoa sitten.